Certificate EV Charging Station Developer Installer
An area of 3 km could require about 300 charging stations with about 4-5 charging slots. To reach a milestone of meeting the charging requirement of 2,000,000 Electric Cars, around 400,000 nos of Charging stations are required by 2026. Apart from vehicle manufacturers, third party companies are also in the race to announce plans to set up charging infrastructure in the country.

The Indian government is taking steps to address this issue by inviting proposals from government organizations, public sector units, power distribution companies, oil & gas companies (many of which already own chains of petrol pumps) and private firms to build and operate EV charging infrastructure on important highways across the country.

The Faster Adoption and Manufacturing of Electric Vehicles (FAME) under the Indian Government's National Electric Mobility Mission envisages extending capital grants to organization's for promoting the use of EVs in the country. The government approved Phase 2 of FAME for three years starting April 1, 2019. The government has invited proposals for installation of charging stations from entities that intend to build and operate charging infrastructure on major highways and expressways in the country. Proposals have been invited from interested entities to build and operate EV charging infrastructure on the Mumbai - Pune, Ahmedabad-Vadodara, Delhi-Agra Yamuna, Bengaluru-Mysore, Bengaluru-Chennai, Surat - Mumbai, Agra - Lucknow, Eastern Peripheral and Hyderabad-ORR Expressways.

Academy Of EV Technology offering a course on EV Charging Station Designs, planning, costing, ROI, vendor selection and services as a starting point for EV charging installation projects. Case study of EV charging station business model, govt Policies and guidelines.
TRAINING METHODOLOGY:
Live Interactive Classes::
AEVT Live Interactive Class, where students and teachers meet together at schedule class time with whiteboard, voice and live video, Lectures and Question answer occur at the same hour.

Our expert faculty members take session on each paper that is delivered through live sessions. These sessions are joined by students from India and Abroad. Trainers will discuss in each class session about Key concepts, whiteboard calculation, design, costing, documentation, case studies and real life examples. Students also get chance to clarify their doubts / academic clarifications. If by any chance you miss these live classes, don't worry, each class recorded sessions are uploaded in the AEVT E-Library/LMS.
Hands-on Practical
We know that only theoretical knowledge by online or virtual classes are not sufficient to get full expertise. An individual needs a practical exposure to flourish in a Job or business market.
So we offer practical session at AEVT Lab/Workshop after completion of live interactive online classroom session .In this approach a trainees can fulfill his/her knowledge in a very effective way and time.

We offer project-based blended learning experiences that promote academic and career success for Technical Education.


Teaching and Learning Material
AEVT have dedicated online library (AEVT E-Library) facility for students and stored all Learning Material (E-book, class recording, business releated documents) at AEVT E-Library.
AEVT E Library System provides access to more than 100 + e-books covering all fields of knowledge, e.g. EV Battery - BMS, Charging Station Design, Installation, Government rules and Business opportunity etc and also we have a huge collection of national and international journals, case studies, research papers.Student can access this E-library for self study.
Eligibility
For Entrepreneurs, Startups:
Minimum Educational Qualifications: 12th Pass
Minimum age 18 years, No Upper Age bar
Medium:
English

Dedicated Service Desk for Startups - EDP Desk
"Ringfenced resource to support your business".

GATE Trust dedicated service desk will provide you with access to a group of engineers, advisors to supporting you and your business needs.
Certificate will be Awarded by
Academy of EV Technology, A Unit of Global Advanced Training & Educational Trust, Regd. under NCT New Delhi, Govt. of India
Course Syllabus:
Unit: CI
Charging Infrastructure - Electric Drive and controller
Introduction to EV Charging technology
Onboard charging and Off-board charging
AC charging vs DC charging
Conductive Charging - AC & DC
Inductive Charging Static
Inductive Charging Dynamic
AC charging - Type 1,2,3
DC charging - Chademo, Tesla, CCS
Fast charging and its limitations
Smart charging and applications
Introduction of Vehicle to grid (V2G) technology
Introduction of Wireless charging of EV
On-road charging of EV
Battery swap technology
Solar-powered EVs
Electric Vehicle Supply Equipment -

Different types of EV charger connectors
single-phase or three-phase socket
SAE J1773
CHAdeMO standard - DC fast charging
SAE J1772 Combo

Cords and Cables, Earthing, Lightning Protection of Electric Vehicle Charging, Residual current device (RCD)
National & International EV Standard Codes - IEC applicable for EVSE
Unit: CSA
Charging Station Site Assessment
site analysis for EV charging station
Choosing the location - Public charging stations
Site Selection Considerations, General Site Issues, URDPFI Guidelines, Planning Considerations
Design Guidelines and Site Drawings, EVSE Typical Site Plans, Station Configuration
Unit: CSD-1
Charging Station Design & Costing - EV with PV
Energy consumption
Guidelines on Charging Infrastructure
Public Charging Infrastructure (PCI) - Components of charging station
Finincial Detail of charging station
Proposed Tariff for EV Charging
Electric Vehicle Charging Tariff in Different States of India
Unit: CSD-2
Charging Station Design & Costing - Part 2
PLANNING FOR YOUR STATION
Solar powered electric vehicle charging station
Calculation and selection - Components of charging station
Finincial Detail of charging station
Unit: CSD-3
Charging Station Design - Part 3
Design On-Grid solar charging stations for a parking lot
Plans for EVSE Installation
Single line diagram of charging station
EV Related Signage
Unit: SEV
Safety for EV Charging System
Electrical safety from the charging socket to the electric vehicle
Different aspects of electric safety
Electric Vehicle Charging Safety Guidelines
Protection against electric shock, fault protection
IEC IEC 60068-2 (1,2,14,30), IEC 61683, IEC 60227, IEC 60502 IEC 60947 part I,II, III ,IEC 61215 and more
Unit: ICS
Installation of EV Charging Station
Charging Station Permitting
Execution of work

Installation Instruction
Installing an outdoor public station
Pedestal Charging station

Installation Procedure
Unit: EVB
EV Business - Government rules and opportunity
What is the size of the EV market in India?
Opportunity after COVID-19
Govt. Policies and Regulations
Business models, Utilities , Charging space providers, Battery swapping, Digital and information technology
Payback and commercial model
---
Project based Practical
CS Project
Self Project Documentation: Road side Public Charging Station
Location Selection
Volume of Vehicle Projection
CS Design
BOQ
Financial Projection
Vendor Selection
Work Flow Presentation
Approval Documentation
Income and ROI Projection
Final Project Documentation
CS Lab
Level - II Charging station Installation
Optional:
available at Head office at any time.
Read the manufacturer's installation instructions
Check drawings and specifications
Calculate the total load according to the Code and ensure there is an adequate supply voltage distribution panel nearby;
Check required conduits and excavation
Provide physical protection from vehicle impacts, e.g., bumper posts, safety clearance or a raised platform.
Provide for adequate lighting of the station and the surrounding area
Clearly identify where charging vehicles are to park, using both ground markings and signage
Follow Installation Flowchart
Follow Electrical Connection Flowchart
Follow Electrical Code and EVSE Code
A separate branch circuit is installed for each station
Follow Electrical distribution room design
Follow Single-phase distribution wiring
Supply line switch on
Charger Switch on
Troubleshooting of Charger
Connect Charger gun with vehicle (Prototype Model), Test charging
Disconnect Charger form Prototype Model
Check Charging billing system
Safety practice for CS Satff members
Regular and Periodic Maintaince
Indian candidates Fees
Online Live Class Fees: Rs. 15999/-
Discount on Live Class Fees= 40%
Fees after discount: Rs. 9599/-
Lab Practical Fees: Rs. 1,999/-
All Fees Excluding 18% GST
If you are interested to join at Practical session, we will inform you and pay Hands on Practical Fees at that time.

Foreign Candidates Fees
Online Live Class Fees: $ 450 USD
Discount on Live Class Fees= 40%
Fees after discount: $ 270 USD
All Fees Excluding 18% GST
---
Submit Registeration for this course:
Submit Registration
Admission Process
Submit Registration
AEVT Admission cell will check form data and they will inform you to pay Course fees
Deposit Course fees
Admission cell will send your E-registration certificate and E-library access
Training cell will send you class schedule
Trainiers Team will send your class link
Training cell inform you about practical session at the end of Online live class session
Exam cell will conduct online examination and send E-Certificate, E-marksheet
EDP Desk will provide business guide/support for you (https://edpdesk.gatetrust.org )
Become an EV Expert with Verified Skill Certification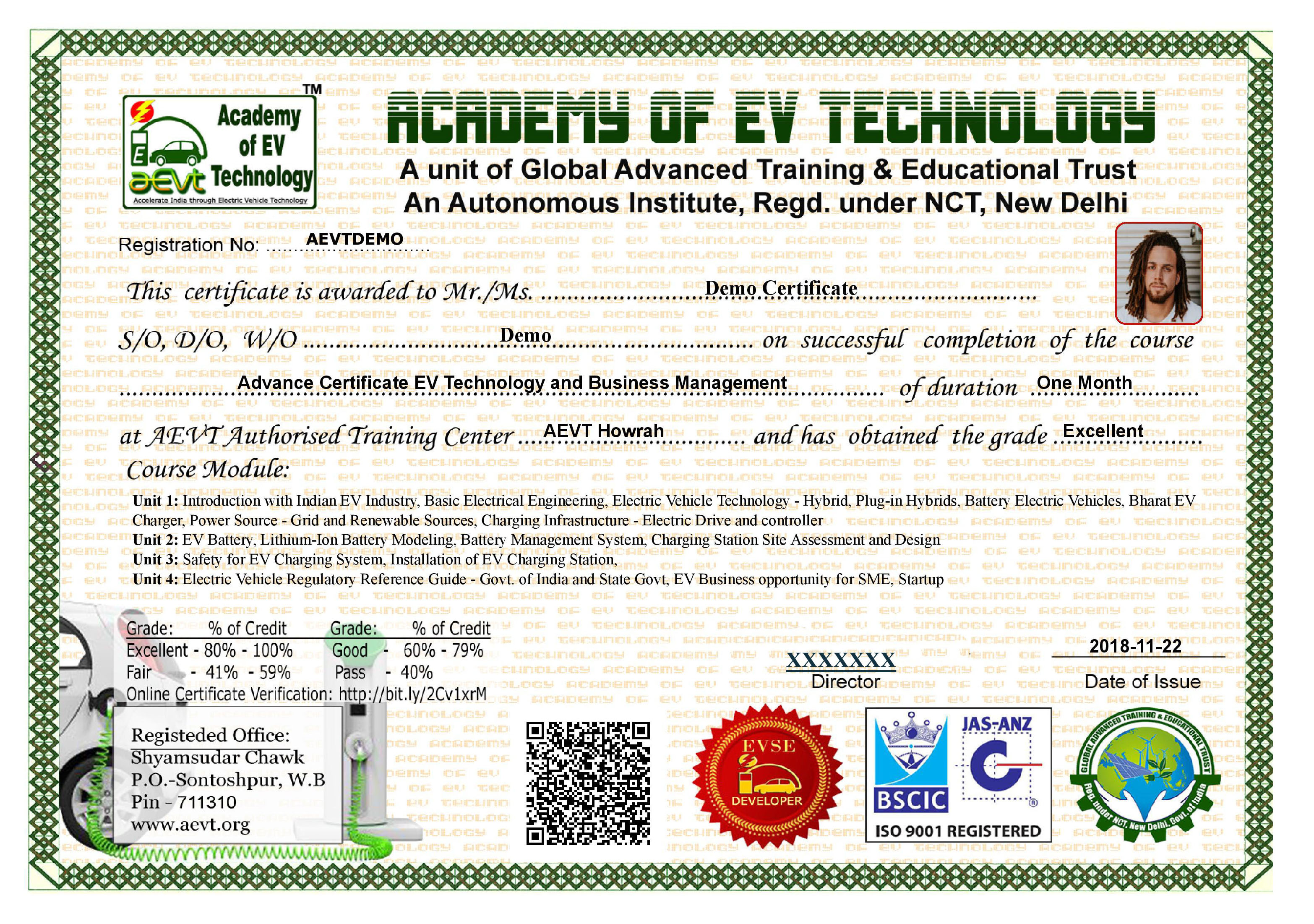 Academy of EV Technology is a unit of Global Advanced Training and Educational Trust (GATE Trust), An International Institute

1. An Autonomous Institute registered under NCT, Govt. of India under Indian Trust Act.
2. Registered Under NGO-DARPAN, NITI Aayog Govt. of India
3. ISO 9001:2015 registered Educational Trust
4. Academic Partner of University of Petroleum & Energy Studies (2020)
5. Registered under 80G and 12A and CSR Act, Govt. of India
6. Awarded Full Accreditation by International Accreditation Organization (IOA) for global education standards.
7. Fully organised Practical and Research Lab at GATE Trust Howrah, West Bengal
8. GATE Research - Research unit of Global Advanced Training and Educational Trust. You can Write & Publish a Review/Research paper,
---