Certificate EV Charging Station Developer Installer
Solar Power EV Charging Station
Understand Needs
Electric vehicles are the mode of transportation of the future. As electric vehicles are getting more and more popular, it has become critical to implement solar charging for electric cars and bikes.
Solar charging stations for electric vehicles have emerged as one of the best ways to reduce India's dependence on fossil fuels for powering various modes of transport. We anticipate that in the coming years, nearly everyone who owns an Electric vehicle system will install a solar charging station in their home. This will necessitate a fundamental shift in how we think about refueling our cars, as well as a natural evolution of our energy infrastructure. The battery rating of an EV indicates the amount of power that it can store, which indicates how much power is required to fully charge it. And common EV battery sizes 100KWh to 200KWh. Solar-powered EV charging stations are the solution to bring that percentage down to zero. Not only is it beneficial for the environment, but it is also a major benefit for EV owners by reducing electricity bill.

Academy Of EV Technology offering a course on Solar EV Charging Station Designs, planning, costing, ROI, vendor selection and services as a starting point for EV charging installation projects. Case study of EV charging station business model, govt Policies and guidelines.
TRAINING METHODOLOGY:
Live Interactive Classes::
AEVT Live Interactive Class, where students and teachers meet together at schedule class time with whiteboard, voice and live video, Lectures and Question answer occur at the same hour.


Hands-on Practical
Level - II Charging station Installation with PV Solar Power Plant
1. Site Preparation
2. MMS Installation
3. PV Panel Installation
4. AJB, Inverter Installation
5. Inverter Troubleshooting
6. Follow EV Charger Installation Flowchart
7. Follow Electrical Connection Flowchart
8. Troubleshooting of Charger
9. Safety practice for CS Staff members
10. Regular and Periodic Maintenance
Teaching and Learning Material
AEVT have dedicated online library (AEVT E-Library) facility for students and stored all Learning Material (E-book, class recording, business releated documents) at AEVT E-Library.
AEVT E Library System provides access to more than 100 + e-books covering all fields of knowledge, e.g. EV Battery - BMS, Charging Station Design, Installation, Government rules and Business opportunity etc and also we have a huge collection of national and international journals, case studies, research papers.Student can access this E-library for self study.
Eligibility
For Entrepreneurs, Startups:
Minimum Educational Qualifications: 12th Pass
Minimum age 18 years, No Upper Age bar
Medium:
English, Hindi (Optional)

Dedicated Service Desk for Startups -
"Ringfenced resource to support your business".

GATE Trust dedicated service desk will provide you with access to a group of engineers, advisors to supporting you and your business needs.
Certificate will be Awarded by
Academy of EV Technology, A Unit of Global Advanced Training & Educational Trust, Regd. under NCT New Delhi, Govt. of India
This course will deliver from basics of Solar Energy, PV Module technology, site selection for solar EV charger to EV Charging Station equipment, different types of Charger, connectors, charging station development and all other parts/ equipment selection, On-grid solar charging station, Off-grid solar charging station design, Vehicle-to-Grid (V2G) technology, workplace charging station, Understanding Finance Basics, GoI Guide line & Business Model, vendor selection, Understanding Finance Basics & Business Model.
Course Syllabus:
GES
Global Energy Scenario
This is an introductory session about national and international energy demand in coming future and share of renewable energy in present year, GoI projection and MNRE guide to develop PV Solar Project.
Global and Indian Energy Scenario
Global energy scenario, Solar PV forecast 2040, net-zero CO₂ emissions in 2050, India's solar market, State Energy Policy, Union Budget 2022-23 provides roadmap for clean energy. Renewable Energy Systems, Environmental Impact of Energy Systems. Global energy scenario, Solar PV forecast 2040, net-zero CO₂ emissions in 2050, India's solar market, State Energy Policy, Union Budget 2022-23 provides roadmap for clean energy. Renewable Energy Systems, Environmental Impact of Energy Systems.
BEV
Global Energy Scenario
Electrical parts of electric Vehicle - The motors, batteries, inverters, chargers, and power wiring between those parts, what are new in the car.
Overview of Electric Vehicle Market
History of Electric Vehicle, Net-zero CO₂ emissions in 2050 mission, Battery demand in the NZE, Fuel shares in total energy use in the NZE, Why EV? Fame India Scheme 2022, Electric Rickshaw Market, EVs Components Industry Growth FY 2025, Business Opportunities in Electric Vehicles Sector in India, Research Opportunities
Generation of Electric Vehicle
Types of electric vehicle - Battery Electric Vehicles (BEVs), Plug-in Hybrid Electric Vehicles (PHEVs), and Hybrid Electric Vehicles (HEVs), mild hybrid and full hybrid,
Major Components in an Electric Vehicle Powertrain
SMT
Solar Module Technology
A brief discussion of PV Cell technology, PV Module/Panel, Technical Specification, Best Module selection.
Physic of Photovoltaic System
New Solar PV Cells 2022-23, N-Type cell, P-Type Cells, Heterojunction Cells, bifacial Photovoltaic Module, Solar Panel Size Vs Power Output, Efficiency calculation, Factor that Determines Solar Panel Efficiency
PV Cell to PV Module Formation
Modules combination - Series & Parallel combination, Module Circuit, Innovative Solar Cell Tabbing Ribbon, BiFacial Photovoltaic, Design of PV Module
Working Process of PV Module
Photoelectric Effect, Photon's Energy, Output of a Solar cell - DC Current, Voltage Technical Specification - Electrical Specification - STC, Pmax, Vmp, Voc, Imp, Isc, IV Curve of Solar Cell, Different Wp PV Module Datasheet analysis
EVT
Electric Vehicle Technology
Different types of Electrical vehicle, different types of chargers, and charger working principle.
Working Principle of different type of EV
Electric vehicle configuration, Vehicle Dynamics
Working principle of Electric Vehicle -
1. Hybrid Electric Vehicles
2. Plug-in Hybrids
3. Battery Electric Vehicles

EV Charging Technology
Different Types of Charger used to charge EV
Clarification & Specification Discussion
1. Bharat EV AC Charger (BEVC-AC001)
2. Bharat EV DC Charger (BEVC-DC001)
3. DC Fast Charging
Basic principles of regenerative braking
SRA
Solar Resource Assessment
To develop solar power plant, solar resource assessment is very important to prepare energy generation prediction, return of investment calculation. Understand project site available solar resources and justify plant system, appropriate location, MMS angle and many more.
Solar Resource
Solar Irradiance, Insolation, Insulation Depending on, Solar Window, Air Mass, Solar Radiation, Sources of radiation data, PSI, Sun Path,
Tilt Angle
Solar Angle, Calculate Altitude Angle, Azimuth Angle, Calculate Optimum Tilt Angle,Zenith Angle, Altitude Angle, Calculate Tilt Angle Solar irradiation for different location
BFC
Battery Fundamentals and Classification
A brief discussion of battery technology, battery chemistry and an introduction of lithium ion cells.
Generation of Battery
History of development of Battery Technology , BATTERY ENERGY STORAGE SYSTEM (BESS), Relationship between Power and Energy, Energy storage capacity, Type of Battery / Cell
Electrochemical batteries Material analysis
Lithium-ion cells Cathode and Anode Materials
Safer battery materials
Battery value chain and their development stage in India
Indian Li-ion Battery manufacturers
Government Initiatives Around Li-ion batteries
BOS
Solar Balance of System
A brief discussion on all related equipment like MMS, AJB, Cable, Connectors, Battery, CC, Inverter etc.
Balance of System
Key Balance of System (BoS) Components SLD for solar power plant, Solar Inverter technical parameters detail, Three phase Inverter technical parameters detail, Earthing for Solar Power Plant, Array Junction Boxes equipment selection and design, Lightning Protection, Surge Protection Devices , Quality Certification, Standards and Testing for Junction Boxes, DC Cable sizing, AC Cables, AC Distribution Boards, AC Isolator, Solar Panel Mounting structure, Trackers
BCP
Battery Cell Parameters
Classification of li-Ion cell technology and its electro-chemistry. Advantages and disadvantages of over different cell technologies.
Battery Technical Specification
Standard Modern Battery
Battery Voltage, Capacity (Ah),
Nominal Cell Capacity, Actual Cell Capacity,
Effective Cell Capacity
Continuous and Peak Current, C-rate,
Battery Power, Power Density, Specific Power, Efficiency
Energy, Energy Density, Specific Energy, Efficiency
Relationship between Power and Energy
Energy storage capacity
Lithium-ion Cell Parameters
Battery cell parameters like -
cell voltage, Cell AH, Specific energy, life Cycle
Charging and discharging curve of li ion cells
C-rating, Self discharge and other parameters like SOC,
Discharging, DOD, Maximum Power Point and Maximum Power,
Charge characteristics, Internal resistance, Cycle life,
State of Charge, State of Energy, State of Health,
Depth of Discharge, Charge Acceptance, Discharge Availability,
Thermal Runway, What causes thermal runaway? Degrade of Battery Pack cycle, Short circuit
Lithium Ion Battery Failure Modes
EVCS
EV Charging Station Infrastructure
A charging station, also called an EV charger or electric vehicle supply equipment (EVSE), is a piece of equipment that supplies electrical power to charge EV batteries. From this unit, trainees can learn about the equipments
EV Charging Station Equipments
Introduction to EV Charging technology
Onboard charging and Off-board charging
AC charging vs DC charging
Conductive Charging - AC & DC
AC charging - Type 1,2,3, DC charging
Different types of EV charger connectors
SAE J1773, CHAdeMO, Tesla, CCS
Introduction of Vehicle to grid (V2G) technology
Introduction of Wireless charging of EV
Battery swap technology
Cords and Cables, Earthing, Lightning Protection of Electric Vehicle Charging, Residual current device (RCD)
National & International EV Standard Codes - IEC applicable for EVSE
CSSA
Charging Station Site Assessment
Before constructing an EV charging station on the road side, we need to survey that location, EV users, future trends and Govt. assistance to set up and do business with PCS. Trainees can learn the process of site preparation and selection.
EV Charging Station Site Assessment
site analysis for EV charging station
Choosing the location - Public charging stations
Site Selection Considerations,
General Site Issues, URDPFI Guidelines,
Planning Considerations
Design Guidelines and Site Drawings,
EVSE Typical Site Plans, Station Configuration
CSD
Solar Power EVCS Design
How can you offer optimum electric bill saving or increase money for your charging station operator or home charging for EV owner. Learn load calculation, power requirements, PV plant sizing to generate required power.
EV Charging Station Design
Selection of number of charger and type of charger followed by GOI guide line, Datasheet analysis of charger, find out electric load, phase connection, transformer sizing, cable sizing, safety process, space requirement, parking space, charging station Layout, shade frame work, emergency evacuation planning, fire fighting system
Understand Financial benefits for your customer
Proposed Tariff for EV Charging, Electric Vehicle Charging Tariff in Different States of India
Understand DISCOM electric charges in depth,
Electric charging station (LT /HT) tariff rate analysis,
Calculation to save optimum electric bill 50%, 70% or 80% from optimum solar power plant at different TOD.
Indian Public charging station Policy,
Prepare Financial benefit Projection for your customer, ROI.
Solar Power Plant Design and Costing
Understand AC Load consummation, Pick load,
Solar power plant calculation, required energy storage calculation,
Equipment Selection & Datasheet Analysis,
Circuit Diagram of Solar System, System Costing,
Software Simulation
solar power plant design and report generation using solar simulation software
Charging station Documentation
Station document for residential house, society building, commercial building, industry shade and road side public charging station
SCS
Safety for EV Charging Station
A brief discussion about safety process required to operate PCS.
Charging Station Safety
Electrical safety from the charging socket to the electric vehicle Different aspects of electric safety Electric Vehicle Charging Safety Guidelines Protection against electric shock, fault protection IEC IEC 60068-2 (1,2,14,30), IEC 61683, IEC 60227, IEC 60502 IEC 60947 part I,II, III ,IEC 61215 and more
SBO
Startup Business Oppertunies
A business guide and motivation session for startups, entrepreneurs on Electric Vehicle charging station and Battery Swapping business.
Future trends in PCS business in India
Discuss MoP GOI Amendment, Govt. Policies and Regulations Business models, Utilities , Charging space providers, Battery swapping, Digital and information technology
LAB
Hands-on Practical
Level - II Charging Station Installation with PV Solar Power Plant
1. Site Preparation
2. MMS Installation
3. PV Panel Installation
4. AJB, Inverter Installation
5. Inverter Troubleshooting
6. Follow EV Charger Installation Flowchart
7. Follow Electrical Connection Flowchart
8. Troubleshooting of Charger
9. Safety practice for CS Staff members
10. Regular and Periodic Maintenance

---
Project based Practical
Self Project Documentation
1. Solar Power PCS design and financial document
Today's Discount Offer 20%


Indian candidates Fees
Offline Course
Fee INR
After 20% Discount
Registration Fee
Rs. 8250
Rs. 6600
Training Fee
Rs. 16749
Rs. 13399
Total Fee
Rs. 24999
Rs. 19999
All Fees Excluding 18% GST
Registration Fee pay to Head Office
Training Fee pay to our Branch after registration
For online class, Fees Pay to Head Office
---
Foreign Candidates Fees
Course Fee: $ 450 USD
After Discount, Course Fee: $ 360 USD
All Fees Excluding 18% GST
Submit Registeration for this course:
Submit Registration
Admission Process
Submit Registration
Admission cell will check form data and they will inform you to pay Course fees
Deposit Course fees
Admission cell will send your E-registration certificate and E-library access
Training cell will send you class schedule
Study options:

2 Month (1 month in-house Technical and commercial class and onside practical, 1 month project work)
For working Professionals: 2 Months (1 month weekend in-house Technical and commercial class and onside practical, 1 month project work)
For online Live class: 2 Months (1 month online Technical and commercial class at night 8PM to 10PM (IST) and 1 month project work)

Training cell inform you about practical session at the end of theory class session
Exam cell will conduct online examination and send E-Certificate, E-marksheet
EDP Desk will provide business guide/support for you
Become an EV Expert with Verified Skill Certification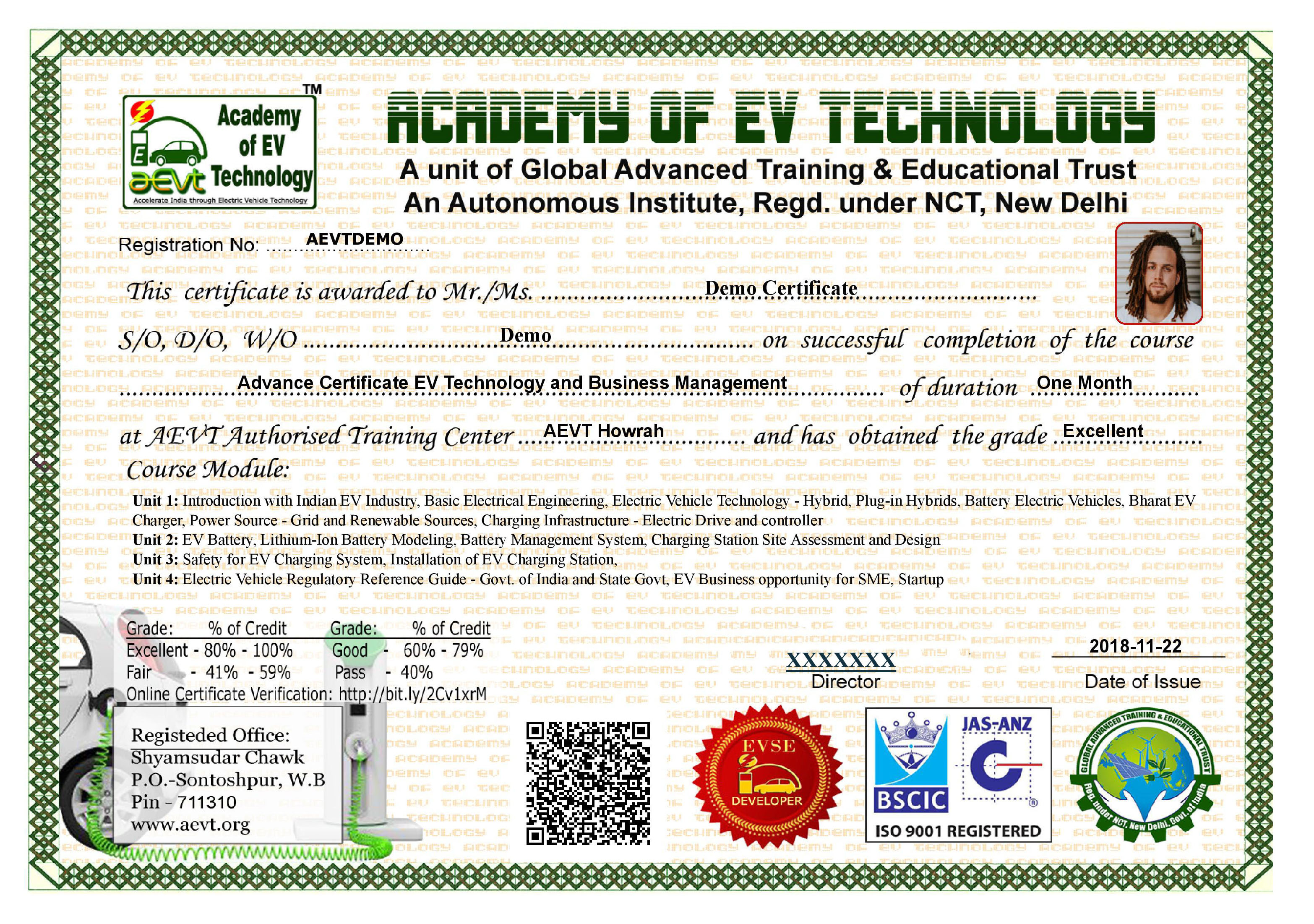 Academy of EV Technology is a unit of Global Advanced Training and Educational Trust (GATE Trust), An International Institute

1. An Autonomous Institute registered under NCT, Govt. of India under Indian Trust Act.
2. Registered Under NGO-DARPAN, NITI Aayog Govt. of India
3. ISO 9001:2015 registered Educational Trust
4. Academic Partner of University of Petroleum & Energy Studies (2020)
5. Registered under 80G and 12A and CSR Act, Govt. of India
6. Awarded Full Accreditation by International Accreditation Organization (IOA) for global education standards.
7. Fully organised Practical and Research Lab at GATE Trust Howrah, West Bengal
8. GATE Research - Research unit of Global Advanced Training and Educational Trust. You can Write & Publish a Review/Research paper,
---